Yes, weddings are sacred. Couples are expected to take their solemn vows. Everyone takes this occasion seriously. However, if you were to get married yourself, wouldn't you want this to be your grandest day ever? Wouldn't it be nice to feel like celebrities, at least, for a day? Besides, hey, it is your day!

Fortunately, Nice Print Photography understands this all too well. A consistent top booker for major bridal fairs, Nice Print has been in the photo business since 2001. At the Philippine Wedding Summit held in 2009, it was hailed as the Overall TOP 2 Booker. And now, it's gaining popularity as wedding photographer to the Stars.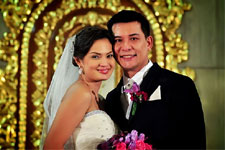 Nice Print Photography's excellent service has built for the company a very good reputation in the Philippine wedding business, so much so that quite a number of celebrities have trusted them to cover their weddings. Their celebrity clientele includes Jeni Hernandez and now-husband Edward Cruz, Jenny Miller and now-husband Cupid Feril, celebrity couples Ogie Alcasid and Regine Velasquez, and John Estrada and Priscilla Mereilles.
Read more about Nice Print Photography and their wedding works...